NASHVILLE, TN — Interim Chancellor and Provost Susan R. Wente unveiled five new Vanderbilt Trailblazer portraits to a crowd gathered Oct. 18 in the Mary McClure Taylor Lobby of Kirkland Hall. 
The five portraits honored Kate Lupton, David Williams II, K.C. Potter, Dorothy J. Wingfield Phillips and Muhammad Yunus.
"These Vanderbilt Trailblazers shaped the roadmap through which we can all continue to explore, seek improvements and drive positive change in the world," Wente said. "Through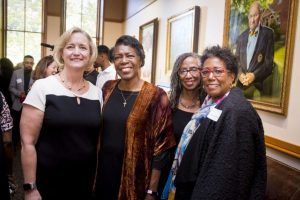 their courage and conviction, they opened doors for others to follow, and, in doing so, they made us a stronger and better university."
Both Phillips and Potter attended the event, as did their friends and families and those of Lupton, Williams and Yunus.
The Vanderbilt Trailblazers initiative recognizes individuals in the Vanderbilt community who have broken barriers and made a positive impact both at the university and in society at large. Established in 2018, the portrait series seeks to expand...